Summer 2012
On the first day of Summer this year, Betsy and I celebrate our fifth wedding anniversary. Thank you. We've had a productive year so far, spending the Winter months and most of the Spring in Georgia. We're not unhappy to arrive back in the Northwest as the June gloom is breaking. There were difficulties over the Winter. My father passed. But, we were glad to be in Georgia for him and for my mother during the transition. Below is the homage I posted after his passing.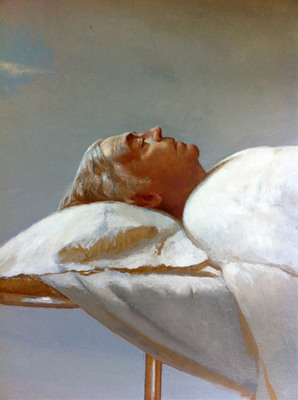 "My most recent painting, 'Last Portrait', is in memory of my father. James William Bartlett Jr. 1923-2012. It was painted from studies done at bedside the morning he passed, May 2nd. At his funeral, it was an accepted attribute: he was a hero. He was a P-38 pilot shot down over China in World War II. I'd heard the stories my whole life. (His hippocampus must have been fully activated.) He remembered every detail of his adventure. The stories of his bailout, walking across occupied China and eventual return to allied territory, were told and retold. But, it was not his medals or war stories that won him praise on the day of his funeral. It was the struggles that he overcame upon his return from the War that classified him as a hero in the minds of many. He'd returned to an America full of possibility after the War. He was enrolled in architecture school at Georgia Tech, then my mother became pregnant with my sister. They moved back to Columbus Georgia and my father worked in his father's furniture manufacturing company. Life struggles consumed him for most of my childhood; demons of sex, race, and alcohol. But in mid-life he overcame his demons, he got religion and never looked back. We had our disagreements on most all things political, racial, and religious, but we were always civil about it. He could say things that would have infuriated (and often did) any socially aware person, but somehow, he and I got along. He worked hard at his church, and at the local food pantry. I loved my father. I forgive him for the things he needs to be forgiven for, and I appreciate him for the many lessons he taught me, directly or indirectly, for how he motivated me, for how he always believed in me. He was my biggest fan. Carl Jung said that one of the most powerful motivating factors for a son are the unfulfilled dreams of the father. Thanks Dad, for your constant courage and psychic wherewithal. You were a complicated man, you were my favorite model. I will always try to honor your memory."
• • •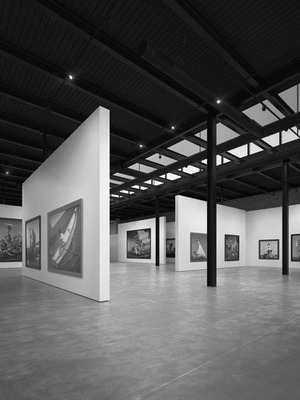 The good news from Georgia over the Winter was the announcement of The Bo Bartlett Center at Columbus State University. The Center will be on the second floor of the Corn Center, which houses the College of the Visual Arts at CSU. You may read more about it
here
.
The Bo Bartlett Center will host an annual Master's Class each Spring. This past March's Class was comprised of a great group of over twenty students from all over the country. American Artist's Workshop Magazine and American Art Collector will be running articles on the Master Class and the Center in their Summer issues.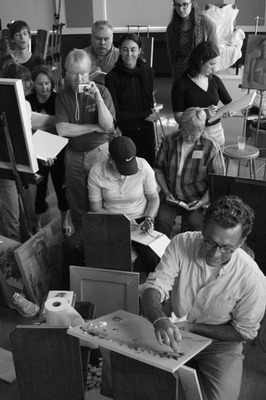 • • •
Betsy and I visited Father Roy Bourgeois at his apartment near the gates of Fort Benning and delivered the 2011 American Peace Award. Father Roy couldn't have been nicer or more gracious in welcoming us into his home. He was eager to talk about the latest news regarding the School of the Americas Watch (
www.SOAW.org
) and his work regarding the ordination of women priests in the Catholic church. The announcement of the 2012 award is on the way so stay tuned –
www.AmericanPeaceAward.org
.
• • •
By spending the Winter in Georgia, Betsy and I became pros at enjoying the company of friends and family without delving into politics and/or religion. You know that as part of my Integral practice, I believe in finding the common ground and the connective tissue between us all. The upcoming election will provide us all with an opportunity to have civil discussions about what we feel is best for our country. I encourage us to move with open hearts and open minds and find peaceful commonality with our family and neighbors. The decision we make will steer our future for much more than just the next four years. So, be patient, keep the hope alive, and when you pray, move your feet… forward!
Happy Painting!
Peace.
Bo